You are here:

Minnesota State Directory - page 11
Adult Day Care in Minnesota
Looking for Adult Day Care services near your community in Minnesota? Our lists cover the whole state, county by county, city by city.
What are Adult Day Care Centers?

Adult day centers are center-based facilities directly licensed by the Department of Human Services that provide adult day services to functionally impaired adults on a regular basis for periods of fewer than 24 hours during the day in a setting that is not a residence. (See Minnesota Rules, parts 9555.9600 to 9555.9730.)

Who is eligible to use Adult Day Care?

The Minnesota Department of Human Services states that most Adult Day Care centers generally require a person to need support due to disability or age and have a functional impairment which affects their ability in the activities of daily life. The impairment can be physical or mental or both, and you must contact the Adult Day Care Center of your choice for specific eligibility requirements.

Always check first!

Since eligibility, cost and other factors can be different from center to center, you must contact the center of your choice BEFOREe making any decisions.

The information on this web age could change at any time. Be careful to always verify by contacting the individual facility.

PAI
3595 Linden Ave
White Bear Lake MN 55110-4684
(651) 407-7174
Adult Day Services (ADS)
Non-profit
Ramsey, Washington

Willmar

( in Kandiyohi County)

Bethesda Health & Housing
901 Willmar Ave SE
Willmar MN 56201-4604
(320) 235-4891
Adult Day Services (ADS)
Non-profit
Kandiyohi, Meeker, Renville

Winona

( in Winona County)

Saint Anne of Winona
1455 W Broadway St
Winona MN 55987-2392
(507) 457-3810
Adult Day Services (ADS)
Faith Community
Fillmore, Houston, Olmsted, Wabasha, Winona

Woodbury

( in Washington County)

Cerenity Senior Care
4125 Woodbury Dr
Woodbury MN 55129-9627
(651) 768-3067
Adult Day Services (ADS)
Non-profit
Washington
Living Life Adult Day Center LLC
500 Stower Dr
Worthington MN 56187
(507) 343-5433
Adult Day Services (ADS)
For-Profit
Nobles
Nobles County Developmental Achievement Center
2121 Nobles St
Worthington MN 56187
(507) 372-7619
Adult Day Services (ADS)
Non-Profit 501(c)(3)
Cottonwood, Jackson, Murray, Nobles, Pipestone, Rock

Zumbrota

( in Goodhue County)

ProAct, Inc.
224 S Main St
Zumbrota MN 55992-1542
(507) 732-7888
Adult Day Services (ADS)
Non-Profit 501(c)(3)
Goodhue
The Big List of Minnesota Home Health Care Agencies
Easy to use, no sign-up and FREE
©Copyright 2018 Quickbrochures/Dibbern& Dibbern Ltd, except for content portions and data from outside resources. All rights reserved.
This website is

Our own story about a Long Term Care Decision


Alzheimer's and
Dementia
Help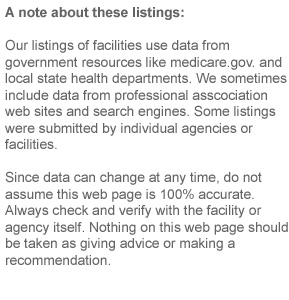 In memory of Dad