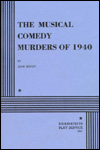 The Musical Comedy Murders of 1940

by John Bishop


reviews from Amazon





Stop it You're Killing Me, 2003
THE MUSICAL COMEDY MURDERS OF 1940 is not the typical who-dunnit murder mystery. Sure the show starts off with someone getting killed in the first scene by an unknown murderer. However, as the guests arrive and the snow falls, the audience soon learns this isn't your average "party". No, this is supposedly an audition for a "backer", an "angel", a patron of the arts for a new show and the people involved include the director, producer, a few actors, a dancer, and a comedian. The mystery keeps you guessing for awhile who the real killer is, but there are several twists and lots of theatre jokes. With all that and a sidekick who turns out to be a hero, THE MUSICAL COMEDY MURDERS OF 1940 is a show not to be missed.



Awesome Show , 2003
I had the oportunity to be in the Musical Comedy Murders of 1940 as Roger Hopewell for my high school's fall production. It is just hysterical! This light-hearted comedy takes place in Chappaqua, New York where a group of people get together to work on a new Broadway musical. As the actors, composer, director, producer, lyricist, hostess, and police collect clues more and more laughs come your way. This play is definitely worth reading as well as seeing.



Agatha Christie meets Noises Off,, 2004
With a murder in the first two pages and many more to come, one would expect the MUSICAL COMEDY MURDERS of 1940 by John Bishop's play to be a typical murder-mystery. But, Bishop has chosen place his murderer deep within the world of actors, directors and theatre producers. Which can only mean one thing...unstoppable egos and unrelenting laughs...and a mystery that's not half-bad, either!