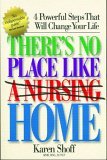 There's No Place Like (a Nursing) Home:
4 Powerful Steps That Will Change Your Life

by Karen Shoff

reviews from Amazon





A Must Read Guide to the 'end game' of life, May 23, 2003
Karen Shoff produced a guide that did not exist before. This should be required reading as a part of everyman's life education: like how to swim, how to be a decent parent, how to do CPR and how to prepare for end of life infirmity. Let's face it: Modern medicine, safer cars, non-smoking and weight watchers are all conspiring to help us live longer. Great! So when we all succeed, then what? Read this book. It answers the question



This Book will change your life, May 22, 2003
Where will you spend your old age? Will you live in a nursing home? Will they take you for walks when you want to go out? Will they help you reposition yourself in bed every couple of hours to help you avoid getting bedsores? Will they be able to get to you on time when you need assistance using the facilities? Will you miss you home?

What if you could stay in the comfort of your own home, with round the clock care if need be, with your choice of caregivers? What if this option was not only for the fabulously wealthy, but was in fact available to anyone and everyone at a fraction of the price of a nursing home? It is not as farfetched as it seems. It just takes some careful planning.

Our society has acknowledged that surviving old age takes preparation. Retirement funds, social security, and well-stocked shelves of volumes upon volumes of do-it-yourself guides are evidence of these sentiments. It is a wonder that amidst all the excitement, most people fail to prepare for illness and incapacitation.

But Karen Shoff of Santa Monica California has vowed to make this ignorance a thing of the past. In her compelling and essential new book, There's No Place Like A Nursing Home, she details in a surprisingly fascinating manner the problems inherent in institutional life, and offers a step-by-step solution. The fast paced text is only enhance by the stories she masterfully tells. As a former Social Worker and Gerontologist, she was witness to the horrors of institutional life. Her experiences in institutional life fueled her passionate commitment to protecting her family, friends and clients from those very facilities.

Her goal is to help ensure each and every American a life of dignity, security, and comfort. She details steps that if taken, will free one from worry, and doubt. She tells her reader how he can stay in the comfort and dignity of his own home, while at the same time receiving care far superior to that offered in any institution for significantly less. Her solution is a combination of Long Term Care Insurance, careful planning, and a slew of incisive, original suggestions. As one of the foremost experts in her field, her book is invaluable. Our society owes Karen Shoff a debt of gratitude for opening up her vast expertise and experience for our benefit.



There's No Place Like (a Nursing) Home, January 5, 2003
Mrs. Shoff has written a clear, convincing, heart-felt, elegantly organized treatise on how to age responsibly. It has rearranged and brightened up a very confused and bleak picture of what it means to age, derived from countless visits to nursing homes over the years. Instead of a sense of victimhood, I have caught a (liberating) glimpse of what it might mean - for me and my dear friends - to have a hand in determining our own destinies!



Practical advice about planning for our futures, December 9, 2002
This is a great book for anyone who is practical enough to realize that we need to plan in advance for our later years, when the chances of being incapacitated or somehow needing in-home assistance are greater than ever before.

Author Karen Shoff has parlayed her many years of experience as both a geriatric social worker and expert in long-term care insurance to help us understand the implications (financial, emotional, and other) of getting a good long-term health insurance plans. She includes many compelling examples about what has happened to people who didn't have this long-term care insurance, versus the much happier outcomes of those who did: longer, happier lives, spent in their own homes, and far more of their own money left at the end of their lives to pass on to their families. Her own father, in his 90s, had to spend nearly all his assets to pay for care in his (and later, Karen's home) to avoid the indignities and lesser quality care of most nursing homes. A great book to get for your middle-aged parents or even for yourself!