If you're looking for a nursing home in Kentucky, chances are you'll find it here.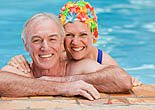 Most of these CCRC's include nursing homes.
CCRCs are retirement communities that offer more than one kind of housing and different levels of care.
FACTOID
288
The number of nursing homes in Kentucky. There are over 26,000 nursing home beds.
Elizabethtown Agencies on Aging
Area Agencies on Aging are the central resource for elder services.
Kentucky State Senior Health Links

More Kentucky Directories: