Are you considering nursing home care for someone you love?
Are you considering nursing home care for someone you love? If you're struggling with this difficult decision and you live in Minnesota, plan on spending about $223 per day. That's the average cost in the state for a Semi-Private room, according to a survey published by the MetLife Mature Market Institute*. The projected yearly cost of $81,395 is based on an estimate of 365 days. (A private room has an average cost of $241 per day, or $87,965 a year.)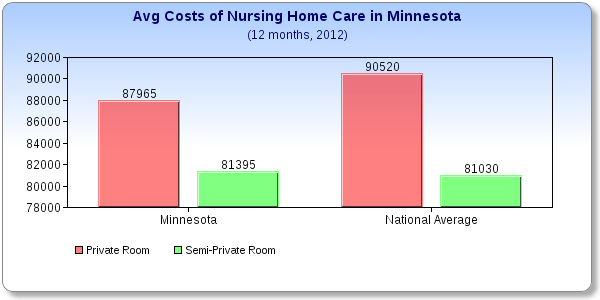 The Price Depends on Where You Live in Minnesota.
In the Twin Cities area for example, the average cost of a semi-private room was $231 per day. In Rochester it was $200. In the rest of the state, it was $228 daily.
Minnesota
Semi-Private
Room
Private
Room
Daily
Daily
Minneapolis/St. Paul
$231
$248
Rochester Area
$200
$216
Rest of State
$228
$249
State Average
$223
$241
The Highs and Lows of Costs in the State
The rates in our chart reflect average costs. There were many facilities that charged more or less than the average. A semi-private room in the state ranged from a low of $147 to a high of $308. That's a spread, for a year's cost, of $53,655 to $112,420.
The 2012 average was $18 higher than the 2011 average of $205 per day for a semi-private room.
Minnesota was the 35th most expensive state for nursing home care.
Minnesota ranked 35th for the cost of a nursing home room in the United States, according to this survey. Utah ranked just above, and South Carolina just under. The United States average cost for a semi-private room was was $222 per day. A private room was $248.

Explanatory note about the survey: