Continuing Care Retirement Communities
Are you trying to locate Continuing Care Retirement Communities (CCRCs) in a state or near a major city? Our website will help you. You'll also find a collection of articles and resources for readers who are considering a CCRC retirement community.
What are Continuing Care Retirement Communities?
Medicare.gov defines CCRCs as "retirement communities that offer more than one kind of housing and different levels of care. In the same community, there may be individual homes or apartments for people who still live on their own, an assisted living facility for people who need some help with daily care, and a nursing home for those who require higher levels of care.
Residents move from one level to another based on their needs, but usually stay within the CCRC. If you're considering a CCRC, be sure to check the quality of the nursing home..."
Read the whole article at Medicare.gov.
Advice from Carf International...


How to select a continuing care retirement community

Because it's a contract that provides housing, services, and nursing care, it's different from other housing and options.

CARF International, an independent, accrediting body of health and human services, has published a brochure which gives recommendations about questions and issues as you decide which CCRC is best for you. The brochure can be downloaded at Carf's website.

It's important to investigate what kinds of services the CCRC offers, and determine which ones are at no extra cost. Extra services, they say, might be available for additional fees.

Ask about what kind of contracts are available from the CCRC. There are a variety of legal agreements used in the CCRC business, and CARF's brochure describes six of them: Type A, which gives the greatest amount of coverage; Type B, which probably has some limits on health-care services provided; Type C, which is they describe as a fee-for-service agreement; Rental Agreements; Skilled Nursing Agreements; and Equity Agreements.

Be sure to ask about licensure, and if there are inspection reports. Find out if the CCRC is accredited by CARF-CCAC, the only accrediting body for CCRCs. And as a final step, be sure to have your accountant or attorney review the contract before you sign.

Carf International offers a selection of brochures and articles about issues and advice in selecting long term care options. You can visit their website here.
More about CCRC living from around the web


This website is created by
The Dibbern Family
Contact us
.
Our
Home page
for this site
Our
privacy statement
is very simple.
Our senior care pages:
This page is about Nursing Homes in the United States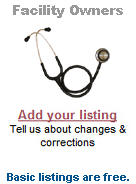 ©Copyright 2016 Quickbrochures/Dibbern& Dibbern Ltd, except for content portions and data from outside resources. All rights reserved.

In memory of Dad
video: Nine residents talk about their CCRC experience
A recent Greystone marketing conference featured a panel of residents from Edgemere, a Senior Quality Lifestyles Corporation-sponsored continuing care retirement community in Dallas, Texas. These residents shared openly and honestly about their experience with CCRCs and the CCRC lifestyle.
video: Behind the Scenes with Kiplinger: Continuing Care Retirement Communities
In this episode of "Behind the Scenes with Kiplinger," you'll learn about the criteria, levels of care, costs, terms, and other financial considerations of CCRCs. Presented by Ally Bank.
"Ask any CCRC these Top Ten questions."
We recently ran accross this article on the website for Judson Services, Inc., a not-for-profit, interdenominational organization, serving Northern Ohio.
They have created a list of 10 questions you should ask any continuing care retirement community before you make any decisions. It's a guide that covers questions about financial strength, past history, emergency response systems, residency agreements and more. We highly recommend it you. It's available at this link.