You are here:

Western Massachusetts

(page 2)
Medicare/Medicaid Nursing Homes & Skilled Nursing in the

Western Massachusetts
(page 2)
Looking for a Nursing Home in Berkshire, Franklin, Hampdon or Hampshire county? See our directory of Medicare/Medicaid registered nursing homes. Includes Agawam, Holyoke and Springfield MA.
Search this website:
This information is provided as a public service. While every effort is made to assure accuracy, the information may not be correct due to changes in provider status, name, address or other facts. Do not use this information as a sole source in selecting a home care or home nursing service.
Western Massachusetts nursing homes are in Berkshire, Franklin, Hampdon and Hampshire counties, MA.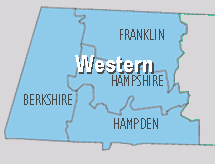 FACTOID
57
The number of nursing homes in Western Massachusetts counties, with 6,705 beds.
Our family likes these
Really, Really Helpful Books About Nursing Homes
The Nursing Home Survival Guide
paperback, under $14.00
...read more
TAKE THAT NURSING HOME AND SHOVE IT!: How To Secure An Independent Future For Yourself And Your Loved Ones
paperback, about $15.00
...read more

Federal & National Info Links About Nursing Homes
Contact Your Long Term Care Ombudsman
FACTOID
69%
Among people turning 65 today, 69 percent will need some form of long-term care, whether in the community or in a residential care facility.
This is a list of the Medicare and Medicaid nursing homes located in the specific state or city according to the Compare Nursing Homes database from CMS (Centers for Medicare and Medicaid Services) at medicare.gov. Use this list only for basic information about nursing homes in your locale. We recommend the Nursing Home Compare feature at www.medicare.gov for detailed information. Due not use this web site as the basis for any decision or action about nursing facilities or care. We are not making any recommendation or giving advice in any way.

This website is created by
The Dibbern Family
Contact us
.
Our
Home page
for this site
Our
privacy statement
is very simple.
Our senior care pages:
This page is about Nursing Homes in Western Massachusetts (Berkshire, Franklin, Hampdon and Hampshire counties ).

In memory of Dad

Our own story about a Long Term Care Decision
Nursing Home Costs and Paying For Nursing Care
FACTOID
413
The number of nursing homes in Massachusetts, with 47,176 beds.
Senior Health Care Links
Area Agencies on Aging are the central resource for elder services. They can help you either directly or by referring you to the appropriate agency in your area.
Massachusetts State Senior Health Links
More Massachusetts Nursing Homes
More Care Pages for the Western MA region