You are here:

Western Illinois (Page 1)
Medicare/Medicaid Nursing Homes & Rehab

Near Rock Island and in Western Illinois

(page 1) Looking for a Nursing Home near Rock Island? See our 10-county directory of Medicare/Medicaid registered nursing homes in Western Illinois.



Includes Bureau, Henderson, Henry, Knox, LaSalle, McDonough, Mercer, Putnam, Rock Island, and Warren Counties
Princeton

(in Bureau County)

Colonial Hlthcare & Rehab Ctr
515 Bureau Valley Parkway
Princeton IL 61356
(815) 875-3347
92
Medicare And Medicaid
Not in a hospital
For Profit - Corporation
Resident and Family Councils
Not in a Continuing Care Retirement Community (CCRC)
Manor Court Of Princeton
140 North Sixth Street
Princeton IL 61356
(815) 875-6600
125
Medicare And Medicaid
Not in a hospital
Non Profit - Corporation
Resident Council Only
Not in a Continuing Care Retirement Community (CCRC)
Spring Valley Nursing
1300 North Greenwood Street
Spring Valley IL 61362
(815) 664-4708
98
Medicare And Medicaid
Not in a hospital
For Profit - Partnership
Resident Council Only
Not in a Continuing Care Retirement Community (CCRC)

Walnut

(in Bureau County)

Walnut Manor
308 South Second Street
Walnut IL 61376
(815) 379-2131
62
Medicare And Medicaid
Not in a hospital
For Profit - Corporation
Resident Council Only
Not in a Continuing Care Retirement Community (CCRC)
Henderson County Ret Center
604 Oakwood Drive
Stronghurst IL 61480
(309) 924-1123
59
Medicare And Medicaid
Not in a hospital
Non Profit - Other
Resident Council Only
Not in a Continuing Care Retirement Community (CCRC)

Geneseo

(in Henry County)

Good Samaritan Society - Geneseo Village
704 South Illinois Street
Geneseo IL 61254
(309) 944-6424
72
Medicare And Medicaid
Not in a hospital
Non Profit - Church Related
Resident and Family Councils
Not in a Continuing Care Retirement Community (CCRC)
Hammond-Henry District Hsp
600 North College Avenue
Geneseo IL 61254
(309) 944-6431
38
Medicare And Medicaid
In a hospital
Government - Hospital District
Resident Council Only
Not in a Continuing Care Retirement Community (CCRC)
Hillcrest Home
14688 Illinois Highway 82
Geneseo IL 61254
(309) 944-2147
106
Medicare And Medicaid
Not in a hospital
Government - City/County
Resident and Family Councils
Not in a Continuing Care Retirement Community (CCRC)

Kewanee

(in Henry County)

Kewanee Care Home
144 Junior Avenue
Kewanee IL 61443
(309) 853-4429
84
Medicare And Medicaid
Not in a hospital
For Profit - Corporation
Resident Council Only
Not in a Continuing Care Retirement Community (CCRC)
Royal Oaks Care Center
605 East Church Street, P O Box 600
Kewanee IL 61443
(309) 852-3389
200
Medicare And Medicaid
Not in a hospital
For Profit - Corporation
Resident Council Only
Not in a Continuing Care Retirement Community (CCRC)

Abingdon

(in Knox County)

Care Center Of Abingdon
801 West Martin Street
Abingdon IL 61410
(309) 462-2356
82
Medicare And Medicaid
Not in a hospital
Non Profit - Corporation
Resident Council Only
Not in a Continuing Care Retirement Community (CCRC)
Federal & National Info Links About Nursing Homes

This website is created by
The Dibbern Family
Contact us
.
Our
Home page
for this site
Our
privacy statement
is very simple.
Our senior care pages:
This page is about Nursing Homes in western Illinois.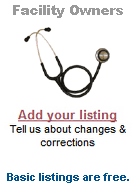 & copy;Copyright 2023 Quickbrochures/Dibbern & Dibbern Ltd, except for content portions and data from outside resources. All rights reserved.

Our own story about a Long Term Care Decision
Nursing Home Costs
and Paying For Nursing Home Care
Egyptian Area Counties
Senior Health & Care Links
Area Agencies on Aging are the central resource for elder services. They can help you either directly or by referring you to the appropriate agency in your area.
Illinois State Senior Health Links
More Senior Care Pages for Illinois
About Nursing Home Councils in our listings
This is a list of the Medicare and Medicaid nursing homes located in the specific state or city according to the Compare Nursing Homes database from CMS (Centers for Medicare and Medicaid Services) at medicare.gov. Use this list only for basic information about nursing homes in your locale. We recommend the Nursing Home Compare feature at www.medicare.gov for detailed information. Due not use this web site as the basis for any decision or action about nursing facilities or care. We are not making any recommendation or giving advice in any way.

In memory of Dad