You are here:

Nursing Homes

Nursing Homes in the U.S.


TCU's & Rehab FacilitiesAre you trying to locate a Nursing Home in your town or county?
Our website will help you.
Alaska
District of Columbia
Custom Search

This website is created by
The Dibbern Family
Contact us
.
Our
Home page
for this site
Our
privacy statement
is very simple.
Our senior care pages:
This page is about Nursing Homes in the United States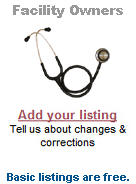 ©Copyright 2015 Quickbrochures/Dibbern& Dibbern Ltd, except for content portions and data from outside resources. All rights reserved.

Our own story about a Long Term Care Decision
Nursing Home Costs
and Paying For Nursing Home Care

In memory of Dad