You are here:

Baltimore / Towson Metro Area (Page 3)
Medicare/Medicaid Nursing Homes & Rehab Facilities in the

Baltimore / Towson Metro Area


(page 3) "Looking for a nursing home or rehab facility near Baltimore? See facilities in Anne Arundel, Baltimore, Baltimore City, Carroll, Harford, and Howard Counties
Future Care Cherrywood
12020 Reisterstown Road
Reisterstown MD 21136
(410) 833-3801
168
Medicare And Medicaid
Not in a hospital
For Profit - Partnership
Resident and Family Council
Not in a Continuing Care Retirement Community (CCRC)

Timonium

(in Baltimore County)

Lorien Mays Chapel
12230 Round Wood Road
Timonium MD 21093
(410) 252-0880
93
Medicare And Medicaid
Not in a hospital
For Profit - Corporation
Resident Council Only
Not in a Continuing Care Retirement Community (CCRC)
Stella Maris, Inc.
2300 Dulaney Valley Rd
Timonium MD 21093
(410) 252-4500
448
Medicare And Medicaid
Not in a hospital
Non Profit - Corporation
Resident and Family Council
In a Continuing Care Retirement Community (CCRC)

Towson

(in Baltimore County)

Chestnut Grn Hlth Ctr Blakehur
1055 West Joppa Road
Towson MD 21204
(410) 296-2900
42
Medicare
Not in a hospital
For Profit - Partnership
Resident Council Only
In a Continuing Care Retirement Community (CCRC)
Holly Hill Nursing And Rehabilitation Center
531 Stevenson Lane
Towson MD 21286
(410) 823-5310
75
Medicare And Medicaid
Not in a hospital
For Profit - Corporation
Resident and Family Council
Not in a Continuing Care Retirement Community (CCRC)
Manorcare Health Services - Dulaney
111 West Road
Towson MD 21204
(410) 828-6500
135
Medicare And Medicaid
Not in a hospital
For Profit - Corporation
Resident Council Only
Not in a Continuing Care Retirement Community (CCRC)
Manorcare Health Services - Ruxton
7001 Charles Street
Towson MD 21204
(410) 821-9600
232
Medicare And Medicaid
Not in a hospital
For Profit - Corporation
Resident Council Only
Not in a Continuing Care Retirement Community (CCRC)
Manorcare Health Services -Towson
509 East Joppa Road
Towson MD 21286
(410) 828-9494
108
Medicare And Medicaid
Not in a hospital
For Profit - Corporation
Resident and Family Council
Not in a Continuing Care Retirement Community (CCRC)
Multi-Medical Center
7700 York Road
Towson MD 21204
(410) 821-5500
118
Medicare And Medicaid
Not in a hospital
For Profit - Corporation
Resident Council Only
Not in a Continuing Care Retirement Community (CCRC)
Pickersgill Retirement Community
615 Chestnut Ave
Towson MD 21204
(410) 825-7423
43
Medicare And Medicaid
Not in a hospital
Non Profit - Corporation
Resident Council Only
In a Continuing Care Retirement Community (CCRC)
Longview Nsg. Home
3332 Main Street
Manchester MD 21102
(410) 239-7139
109
Medicare And Medicaid
Not in a hospital
For Profit - Corporation
Resident and Family Council
Not in a Continuing Care Retirement Community (CCRC)
Lorien Health Systems Mt Airy
705 Midway Avenue
Mount Airy MD 21771
(301) 829-6050
62
Medicare And Medicaid
Not in a hospital
For Profit - Corporation
Resident Council Only
Not in a Continuing Care Retirement Community (CCRC)
Pleasant View Nsg Home
4101 Old National Pike
Mount Airy MD 21771
(301) 829-0800
104
Medicare And Medicaid
Not in a hospital
For Profit - Corporation
Resident and Family Council
Not in a Continuing Care Retirement Community (CCRC)
Brinton Woods Nursing & Rehabilitation Center
1442 Buckhorn Road
Sykesville MD 21784
(410) 795-2737
60
Medicare And Medicaid
Not in a hospital
For Profit - Corporation
Resident and Family Council
Not in a Continuing Care Retirement Community (CCRC)
Copper Ridge
710 Obrecht Road
Sykesville MD 21784
(410) 795-8808
66
Medicare And Medicaid
Not in a hospital
Non Profit - Corporation
Family
Not in a Continuing Care Retirement Community (CCRC)
Fairhaven, Inc.
7200 Third Avenue
Sykesville MD 21784
(410) 795-8800
79
Medicare
Not in a hospital
Non Profit - Corporation
Resident and Family Council
In a Continuing Care Retirement Community (CCRC)
Transitions Healthcare At Sykesville
7309 Second Avenue
Sykesville MD 21784
(410) 795-1100
118
Medicare And Medicaid
Not in a hospital
For Profit - Corporation
Resident and Family Council
Not in a Continuing Care Retirement Community (CCRC)
Our family likes these
Really, Really Helpful Books About Nursing Homes
The Nursing Home Survival Guide
paperback, under $14.00
...read more
TAKE THAT NURSING HOME AND SHOVE IT!: How To Secure An Independent Future For Yourself And Your Loved Ones
paperback, about $15.00
...read more
Federal & National Info Links About Nursing Homes

This website is created by
The Dibbern Family
Contact us
.
Our
Home page
for this site
Our
privacy statement
is very simple.
Our senior care pages:
This page is about Nursing Homes in the Baltimore / Towson Metro Area: Frederick , Montgomery and Prince George's counties.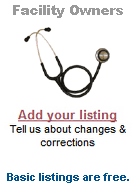 ©Copyright 2023 Quickbrochures/Dibbern& Dibbern Ltd, except for content portions and data from outside resources. All rights reserved.

Our own story about a Long Term Care Decision
Nursing Home Costs
and Paying For Nursing Home Care
Custom Search
Area Agencies on Aging for this region of Maryland
Area Agencies on Aging are the central resource for elder services. They can help you either directly or by referring you to the appropriate agency in your area.
Maryland State Senior Health Links
More Senior Care Pages for Maryland
About Nursing Home Councils in our listings
This is a list of the Medicare and Medicaid nursing homes located in the specific state or city according to the Compare Nursing Homes database from CMS (Centers for Medicare and Medicaid Services) at medicare.gov. Use this list only for basic information about nursing homes in your locale. We recommend the Nursing Home Compare feature at www.medicare.gov for detailed information. Due not use this web site as the basis for any decision or action about nursing facilities or care. We are not making any recommendation or giving advice in any way.

In memory of Dad