You are here:

Sioux Falls and Southeast South Dakota (Page 1)
Nursing Homes & Rehab Facilities in or near

Sioux Falls and Southeast South Dakota


(page 1) Looking for a nursing home or rehab facility near Sioux Falls? We have all the Medicare/Medicaid Nursing Homes in Bon Homme, Clay, Davison, Hutchinson, Lake, Lincoln, Mc Cook, Miner, Minnehaha, Moody, Turner, Union And Yankton counties.

Adsense leaderboard
728x90
Sioux Falls, SD

Avera Prince Of Peace
4500 Prince Of Peace Place
Sioux Falls SD 57103
(605) 322-5613
90
Medicare And Medicaid
Located in a hospital
Non Profit - Church Related
Resident Council Only
Not in a Continuing Care Retirement Community (CCRC)
Bethany Home Sioux Falls
1901 South Holly Avenue
Sioux Falls SD 57105
(605) 338-2351
52
Medicare And Medicaid
Not in a hospital
Non Profit - Church Related
Resident Council Only
Not in a Continuing Care Retirement Community (CCRC)
Dow Rummel Village
1321 W Dow Rummel St
Sioux Falls SD 57104
(605) 336-1490
50
Medicare And Medicaid
Not in a hospital
Non Profit - Corporation
Resident and Family Council
In a Continuing Care Retirement Community (CCRC)
Golden Livingcenter - Covington Heights
3900 S Cathy Ave
Sioux Falls SD 57106
(605) 361-8822
109
Medicare And Medicaid
Not in a hospital
For Profit - Corporation
Resident Council Only
Not in a Continuing Care Retirement Community (CCRC)
Good Samaritan Society Luther Manor
1500 W 38th St
Sioux Falls SD 57105
(605) 336-1997
92
Medicare And Medicaid
Not in a hospital
Non Profit - Church Related
Resident Council Only
Not in a Continuing Care Retirement Community (CCRC)
Good Samaritan Society Sioux Falls Center
401 West Second Street
Sioux Falls SD 57104
(605) 336-6252
100
Medicare And Medicaid
Not in a hospital
Non Profit - Corporation
Resident and Family Council
Not in a Continuing Care Retirement Community (CCRC)
Good Samaritan Society Sioux Falls Village
3901 S Marion Rd
Sioux Falls SD 57106
(605) 361-3311
188
Medicare And Medicaid
Not in a hospital
Non Profit - Corporation
Resident Council Only
In a Continuing Care Retirement Community (CCRC)
Southridge Health Care Center
3600 South Norton Avenue
Sioux Falls SD 57105
(605) 338-9891
110
Medicare And Medicaid
Not in a hospital
For Profit - Corporation
Resident Council Only
Not in a Continuing Care Retirement Community (CCRC)

Surrounding Counties and Southwest South Dakota Communities

Scotland

(in Bon Homme County)

Good Samaritan Society Scotland
130 6th Street
Scotland SD 57059
(605) 583-2216
40
Medicare And Medicaid
Not in a hospital
Non Profit - Corporation
Resident Council Only
Not in a Continuing Care Retirement Community (CCRC)

Tyndall

(in Bon Homme County)

Good Samaritan Society Tyndall
2304 Laurel Street
Tyndall SD 57066
(605) 589-3350
71
Medicare And Medicaid
Not in a hospital
Non Profit - Corporation
Resident Council Only
Not in a Continuing Care Retirement Community (CCRC)

Irene

(in Clay County)

Sunset Manor Avera Health
129 E Clay St
Irene SD 57037
(605) 263-3318
50
Medicare And Medicaid
Not in a hospital
Non Profit - Corporation
Resident Council Only
Not in a Continuing Care Retirement Community (CCRC)
Sanford Care Center Vermillion
20 S Plum Street
Vermillion SD 57069
(605) 624-2611
66
Medicaid
Located in a hospital
Non Profit - Corporation
Resident and Family Council
Not in a Continuing Care Retirement Community (CCRC)

Wakonda

(in Clay County)

Wakonda Heritage Manor
515 Ohio Street
Wakonda SD 57073
(605) 267-2081
39
Medicare And Medicaid
Not in a hospital
Non Profit - Corporation
Resident Council Only
Not in a Continuing Care Retirement Community (CCRC)
Our family likes these
Really, Really Helpful Books About Nursing Homes
The Nursing Home Survival Guide
paperback, under $14.00
...read more
TAKE THAT NURSING HOME AND SHOVE IT!: How To Secure An Independent Future For Yourself And Your Loved Ones
paperback, about $15.00
...read more
Adsense leader
board
600H
Federal & National Info Links About Nursing Homes

This website is created by
The Dibbern Family
Contact us
.
Our
Home page
for this site
Our
privacy statement
is very simple.
Our senior care pages:
This page is about Nursing Homes in Southern South Dakota: Bennett, Brule, Charles Mix, Douglas, Gregory, Jackson, Mellette and Tripp counties.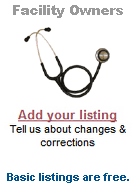 ©Copyright 2018 Quickbrochures/Dibbern& Dibbern Ltd, except for content portions and data from outside resources. All rights reserved.

Our own story about a Long Term Care Decision
Nursing Home Costs
and Paying For Nursing Home Care
South Dakota Area Agencies on Aging
Area Agencies on Aging are the central resource for elder services. They can help you either directly or by referring you to the appropriate agency in your area.
South Dakota Department of Social Services pages
More Senior Care Pages for South Dakota
About Nursing Home Councils in our listings
This is a list of the Medicare and Medicaid nursing homes located in the specific state or city according to the Compare Nursing Homes database from CMS (Centers for Medicare and Medicaid Services) at medicare.gov. Use this list only for basic information about nursing homes in your locale. We recommend the Nursing Home Compare feature at www.medicare.gov for detailed information. Due not use this web site as the basis for any decision or action about nursing facilities or care. We are not making any recommendation or giving advice in any way.

In memory of Dad